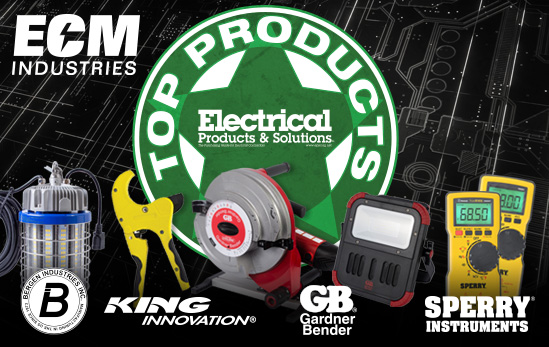 Top Products 2019 awards!
New Berlin, Wisconsin — January 1, 2020
ECM Industries brands Gardner Bender, Bergen Industries, King Innovation and Sperry Instruments bring home "Top Product 2019" awards from Electrical Products & Solutions Magazine.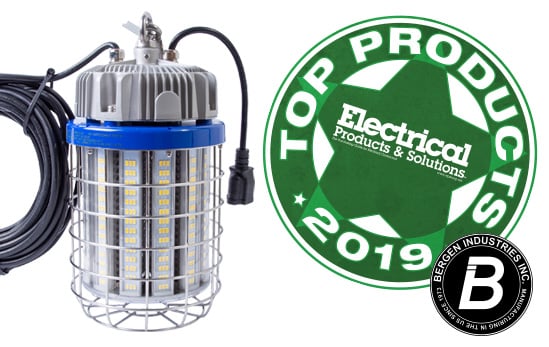 Bergen Industries High Bay 150 Watt Fixture
Bergen Industries 150-watt construction grade Temporary High Bay is an energy saving and long-life solution to replace traditional HID & CFl work lights. Bergen work lights are designed for the jobsite; it features a heavy-duty aluminum die-cast body and stainless-steel cage while being portable and light weight for ease of use in do-it-yourself and Farm Ag applications. The K5150 also comes with a heavy-duty carabiner snap on hook, Daisy-chain cord, 10ft. 18/3 SJTW power cord and is IP65 rated for indoor/outdoor use and all-weather applications Additonal specs include 20,000 lumens, 5000Kcolor temperature, 360-degree light beam angle and tested for 50,000 life hours. Bergen temporary lights are UL, RoHS and OSHA compliant and come with a 5-year warranty. Along with Bergen's 150-watt light, a 60-watt and 100-watt are also available.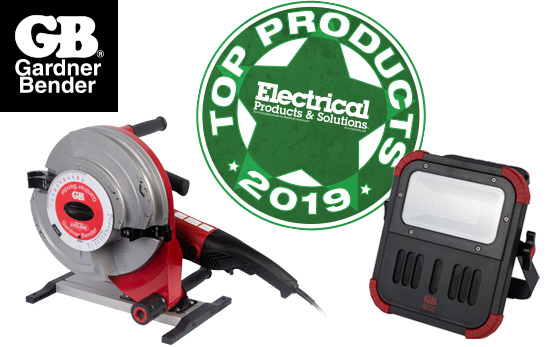 Portable Cyclone® Powered Conduit Bender
The innovative and new portable Cyclone® powered conduit bender by Gardner Bender for bending 1/2" — 1" EMT, Rigid, and EMT aluminum conduit and 1/2" — 3/4" PVC-Coated Rigid conduit, all on a single shoe! The bender uses a standard pipe threader as a power source, making it versatile and quick to set up. It is compatible with most pipe threaders on the market. The Portable Cyclone® is designed with portability in mind. Weighing in at just 35lbs (about 53 lbs* with a pipe threader attached), the Cyclone® is easy to carry around on a jobsite or up and down stairs. Reduce the risk of injury by removing the need to bend larger sizes of conduit using a hand bender or lugging around heavy equipment and conduit. Make work more efficient by saving time on the jobsite. Performing precise bends with repeatability has never been this quick and easy!
LED Work Lights
Gardner Bender's newest line of LED work lights brings the best in innovation, technology durability and versatility. GB brings together two of the most popular technologies into 1 easy to use portable device. Introducing the new GWL-20BT, it features a 20 -watt LED work light producing over 2,000 lumens and includes two built-in 3-watt Bluetooth speakers. The 2 built in speakers pack loud enough sound to use the light while entertaining in the backyard during the summer or keeping the jobsite moving along. The LED light a 6000K color temperature for a natural daylight look. The work light also includes a quick lock and release, a rotating kickstand base that doubles as a mounting bracket and a USB accessory charging port. No matter the application, one of Gardner Bender's LED work lights will satisfy your needs.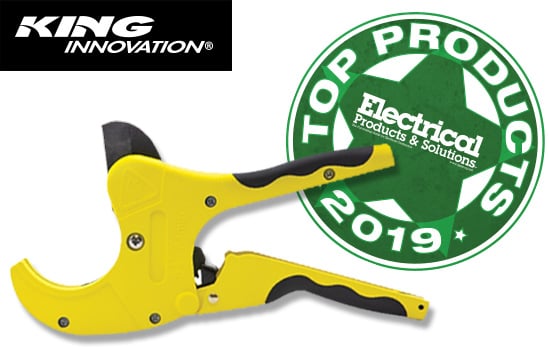 PVC/Poly Ratchet Cutter
The PVC/Poly Ratchet Cutter from King Innovation cleanly cuts both PVC and Poly pipe. For improved accuracy while cutting, it features a sharp and pointed stainless-steel blade tip. That are also coated with PTFE, which allows them to slice through the PVC and Ploy pipe with ease whereas other competitors standard stainless-steel models will not.
The body of these Ratchet Cutters is made of cast aluminum as finished with an ergonomic cushion grip handle to protect hands even after repeated use.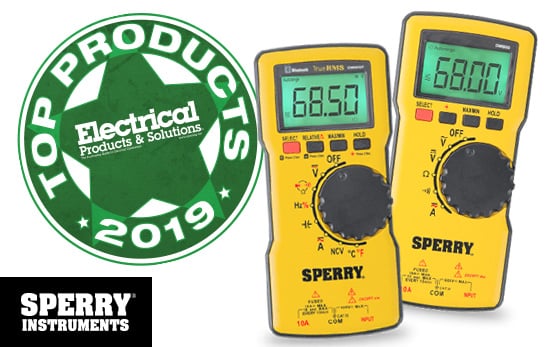 Sperry Thin Meter
Patent Pending Industry First Design from Sperry Instruments! This is the thinnest full-size meter on the market.
At less than 3/4"; thick this meter is half the size of standard multimeters, making it easy to hold in your hand or carry in a pouch or pocket. The rugged, yet compact, design is loaded with all the key features electrician's need to do their job efficiently and effectively. No more bulky meters.
Packed with Performance! Engineered to exceed the expectations of electricians, the DM6800 Thin DMM's durable and ergonomic design is manufactured to the latest industry standards. The auto-ranging meter tests AC/DC voltage, amperage resistance, and continuity and features a backlit display with improved audible and visual indication. The auto-off function and low battery indicator ensure the meter is ready to use when you are. The meter is CAT III (600V), cETLus with a limited lifetime warranty and includes a soft case, 40" test leads and batteries. Model DM6850T includes TRMS and Bluetooth functionality.

Danny J. Salchert, "Top Products 2019," Electrical Products & Solutions, December 2019 Issue.
Read the full "Top Products 2019" story