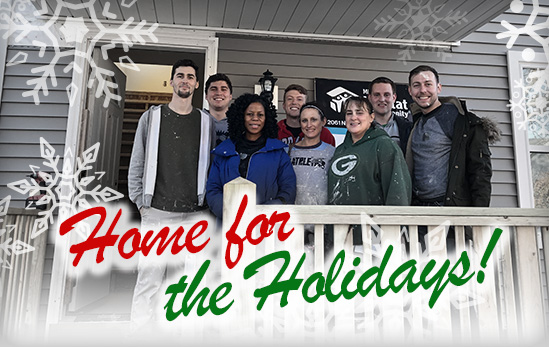 Home for the Holidays!
New Berlin, Wisconsin — December 19, 2019
"Happy Holidays" can mean a lot of different things to a lot of different people. At the heart of it family, friends and community are an important part of the culture at ECM Industries. Home and community is especially dear to us this year as we embrace the season for the first time in our new corporate headquarters and distribution center located in New Berlin, Wisconsin.
We're committed to making the communities we serve a better place because of our presence. We encourage employee volunteerism by providing regular opportunities for involvement and paid time off for eligible employees.  We call this time "Volunteer Day."
Our Employees are grateful for opportunities to give back throughout the year and just in the weeks leading up to the holidays have supported charities like these:
Habitat for Humanity
One of our teams recently volunteered to help do some interior home painting for Habitat for Humanity in the walnut hill neighborhood of Milwaukee. Over the years Habitat for Humanity has identified that developing in a condensed area drives value to the community through decline in crime and homelessness. It also sees an increase in employment rates and graduation rates as a result in those areas. Habitat for Humanity is striving to complete 20 new home constructions this year which is 5 more than last year.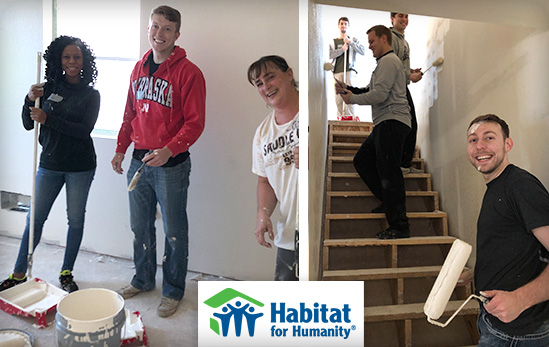 Serving over a 100 families a year Habitat for Humanity provides affordable quality housing through new construction, rehabilitation of existing homes or offering help for critical large scale improvement projects like roof replacements and lead paint removal to name a couple. They ultimately assist setting families up for long term success by providing financial awareness training which requires the families to invest 100 hours of sweat equity into their home project.
Hunger Task Force
ECM Industries sponsored a food drive for the Hunger Task Force at the New Berlin facility from November 11th through November 25th. Employees brought in over 1000 pounds of food for the drive. Pictured is Jeremy a representative from the Hunger Task Force who stopped by to collect the food donations.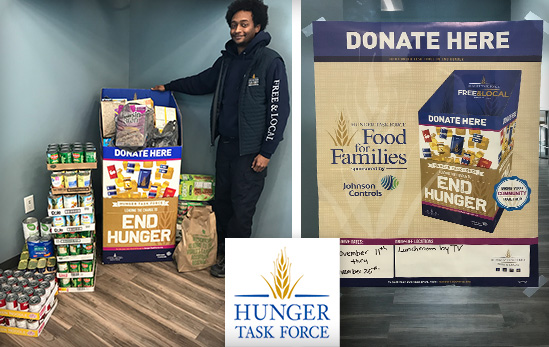 The Hunger Task Force is Milwaukee's only free and local food bank. It is community-supported and locally run, and all food is provided free of charge to the local network of food pantries, soup kitchens, homeless shelters and senior apartments. The Hunger Task Force feeds local children, families and seniors healthy and nutritious foods—for free—to a network of 70 emergency food organizations throughout Milwaukee County.
Ronald McDonald House Charities
We sponsored a "Giving Tree" at ECM Industries to benefit The Ronald McDonald House Charities (RMHC) of Eastern Wisconsin's "Magic Room".  Through the "Giving Tree" event at ECM Industries employees selected an ornament on the tree that contained a request for a specific gift which they purchased and brought it to donate. The Donations we raised consisted of Toys, Books and gift cards.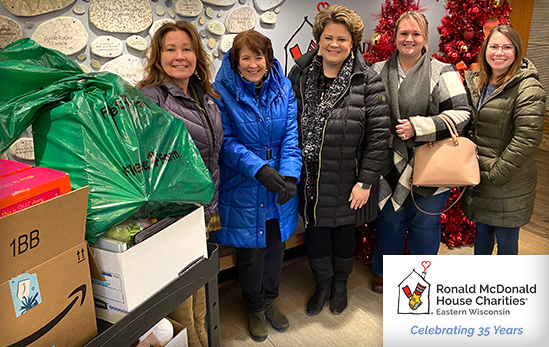 The Ronald McDonald House Charities (RMHC) of Eastern Wisconsin is Milwaukee's "home away from home" for families while their children are receiving medical treatment at local hospitals. At the Ronald McDonald House, a small yellow token is a big deal. With yellow token in hand, families get to visit "The Magic Room" – the most magical room in the House, filled with floor-to-ceiling shelves of toys, games, and, of course, books! Under the rainbow canopy, children get to pick which of the very special items they choose to make their own. Last year the House provided nearly 2,800 family stays. Each of these families visit The Magic Room while on their medical journey, selecting toys and books that provide distraction, comfort, and joy when so many things are out of their control. The Magic Room is stocked solely through the generosity of donors.
We hope our donations and employee volunteer efforts this season will help to nourish, warm and brighten the lives of those that need it in our community. We are grateful for these opportunities and for the means to serve where we can. Together we can make a difference.
From everyone here at ECM Industries we wish you one and all a safe and happy "Home for the Holidays".