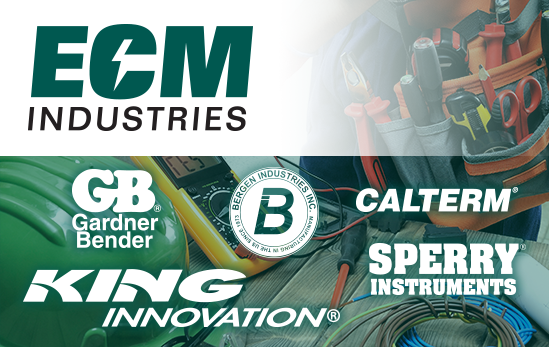 Power Products' Electrical Construction and Maintenance Division Rebranded as ECM Industries
Menomonee Falls, Wisconsin – August 9, 2018
With the completion of Brunswick Corporation's (NYSE: BC) acquisition of Power Products' Marine and Mobile Division from Genstar Capital on August 9, the remaining business, formerly known as the Electrical Construction and Maintenance Division of Power Products, has been rebranded as ECM Industries. Genstar Capital will continue to own ECM Industries, which consists of a portfolio of leading industry brands serving the electrical maintenance and repair, lighting, gas utility, and irrigation markets. Genstar Capital and management will continue to partner to expand the ECM Industries' product offering through investments in new technologies.
About ECM Industries:
ECM Industries (www.ecmidustries.com) brands include Gardner Bender, Sperry Instruments, Bergen Industries, King Innovation, and Calterm. ECM Industries' brands have been supplying electricians, do-it-yourselfers, contractors, and maintenance technicians with a wide variety of innovative products for over 50 years. The ECM Industries brands are widely stocked and distributed through leading North American wholesalers, retailers, catalogs, and e-commerce distributors.
About Genstar Capital:
Genstar Capital (www.gencap.com) is a leading private equity firm that has been actively investing in high quality companies for more than 30 years. Based in San Francisco, Genstar works in partnership with its management teams and its network of strategic advisors to transform its portfolio companies into industry-leading businesses. Genstar currently has approximately $10 billion of assets under management and targets investments focused on targeted segments of the industrial technology, healthcare, financial services and software industries.
For further information please contact:
David Wiesemann
Vice President of Marketing & Product Management
[email protected]
www.ecmidustries.com
Download Press Release
Power Products' Electrical Construction and Maintenance Division Rebranded as ECM Industries